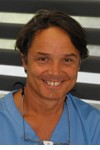 Prof. Fabrice Baudot  (France)
Dr. Baudot's specialty is Periodontics and surgery. He is specialist also in working with microscope , combining with laser his approach is mainly 〝microsurgery"
Topic : 
Periimplantitis and Er : YAG Laser
Abstract : 
With the advent of dental implants appears a new pathology perimplantitis. In many respects , this condition resembles periodontitis, but histological and physiological features of the peri-implant environment make it a separate entity to which practitioners are often poor.
Physical and biological properties of Er:YAG Laser are particularly suitable for the therapeutic management of peri-implantitis. Er:YAG radiation at 2940 nm may be required as a fundamental tool in the anti-infective and anti-inflammatory treatment of peri-implantitis strategy :
A. For prevention of peri- implantitis : Er:YAG Laser can be integrated into a rogram with a simple and effective prevention. Its high capacity of water absorption make it very effective at low energy levels to destabilize biofilms. It allows rapid response and without anesthesia for preventive disinfection of the environment accessible to peri-implant practitioners and dental hygienists.
B. In the early management of peri-implantitis beginners. The properties of tissue micro-ablation of Er:YAG Laser have an anti-inflammatory effect by selective tissue degranulation . The synergy of its anti- inflammatory and anti-infective properties of biofilms provides the Er:YAG Laser surgical efficiency through non-invasive approach ( flapless ) peri-implant lesions beginners.
C. The advanced lesions peri- implantaires ; a surgical approach is required. Er:YAG Laser stands out as a key therapeutic tool for two reasons :
‧ The radiation allows deep cleaning of implant surfaces. It does not alter the implant surface because there is no thermal effects and its action is clean. There are currently no debris as is the case with jet polishers or curettes .
‧ By its very strong absorption in hydroxyapatite , the Er:YAG Laser allows thorough cleaning of bone lesions.
Thus the use of Er:YAG enables surgical treatment of lesions compatible with the peri-implant bone regeneration .
The study of the etiology, pathogenesis of peri- implantitis and analysis of the literature on the biological properties of Er:YAG Laser will allow us to understand how this new tool should become essential to meet the criteria of the last workshop consensus therapeutic strategies for peri- implantitis.